Note our new Store Hours! 
Dear Friends
Findings approaches  its 22nd anniversary with a mixture of fond memories and excitement for what may come next. I have met and played with many wonderful people during this time and it is with some sadness that I announce that we will be leaving our wonderful location on Jackson Rd. at the end of December. Our new location has not yet presented itself and I am uncertain what the coming transition will look like, but many ideas are floating around.
The one thing I am sure of is that Findings, or whatever the next adventure calls itself, will continue to be a place for creative expression and artful learning. Personally, I will be taking a much needed hiatus for a couple of months to one: REST,  and two: Allow my own creative juices to soak up the universal energy that is more than willing to help identify what is next, I just need to take time to listen.
In preparation for my continued effort to keep you posted, I just finished classes in effectively using Facebook (as most of you know I am not well versed in that social media happening), and hope to have an active FB page in the near future.
As we reduce our inventory we will be passing on some great deals on beads, findings etc. so keep an eye out for our newsletter and/or check the new FB page. We will also continue to offer classes for those of you who want DIY gifts for the holiday season.
I want to thank my wonderful staff and all of you out there for your support over the years and hope to have your continued support in the next adventure. The fun and creativity will continue!
Gerry Dimond and the staff at Findings
Please note our new store hours. Findings will now be closed on Mondays.
Just in time for the season ~ Nancy is back with her great seasonal Acorn Earrings  class. Sunday October 23 from 12:30~3:30. This is an intermediate class where knowledge of the peyote stitch is required.
Barbara  brought in more of her unique My-Tie Bags, designed for the holiday season. They are truly one-of-a-kind, so don't wait.  
Come in and visit our
Imagination Station!
We have a variety of fun, funky metals and findings to inspire your imagination. There are some great items to use in a multitude of beading and/or embroidery projects. My project (the open minded creature, above) started with the ring that became her head as I began beading around the ring. She slowly morphed into her current state. What fun!
Current Specials
Size 11/0, 10/0 & 8/0 Delica Beads
through end of October
All Semi-precious gemstone &
Fresh water pearl strands
50% off
What's New
Hot off the truck 
      New shipment of  Size 11/0 Seed Beads.
October ~ Stone of the Month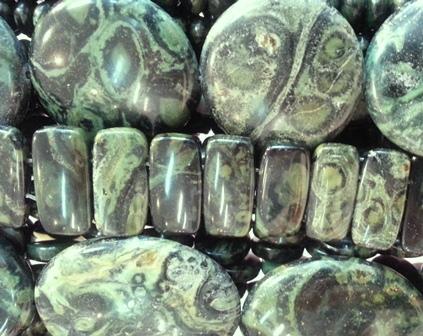 Kambaba Jasper
Is a relative newcomer to the gem market. Mined exclusively in Africa, it is also known as Crocodile Jasper because of its combination of dusky green base color and deep brown/black tapered oval rings reminiscent of crocodile skin.
Metaphysically, jasper is tied to grounding and protection, a combination well suited to soothing anxiety. This specific variety also has connections to growth (both creative and environmental), enhanced endurance, patience and insight.
Hardness: 6.5-7 Country of Origin: Africa