Greetings Everyone!
This October 8th is Open Beading from 11~4. Bring in unfinished projects and complete them in our classroom with fellow beaders.
We have a large assortment of size 11/0 seed beads that we are frantically weighing and tubing. All should be out shortly.
There are still openings in Michelle's Boogie Woogie Bugle Bangle series (Sunday October 9 & 16). Learn this spiral design variation with matching end-caps to complete the project in this 2-part series.
Just in time for the season ~ Nancy is back with her great seasonal Acorn Earrings  class. Sunday October 23 from 12:30~3:30. This is an intermediate class where knowledge of the peyote stitch is required.
Again, by request, my dream inspired Knotted Wrap is now a class which is taking place Saturday October 15 from 10:30 ~ 12:30.
Come in and visit our
Imagination Station!
We have a variety of fun, funky metals and findings to inspire your imagination. There are some great items to use in a multitude of beading and/or embroidery projects. My project (the open minded creature, above) started with the ring that became her head as I began beading around the ring. She slowly morphed into her current state. What fun!
Current Specials
Size 11/0, 10/0 & 8/0 Delica Beads
through end of October
What's New
Hot off the truck 
       More Imagination components hit the table!
October ~ Stone of the Month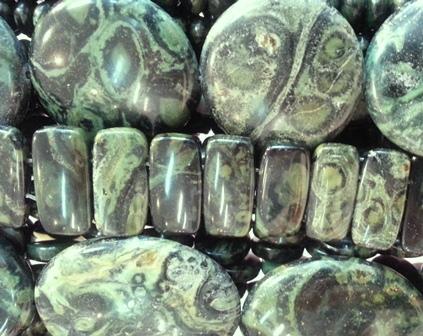 Kambaba Jasper
Is a relative newcomer to the gem market. Mined exclusively in Africa, it is also known as Crocodile Jasper because of its combination of dusky green base color and deep brown/black tapered oval rings reminiscent of crocodile skin.
Metaphysically, jasper is tied to grounding and protection, a combination well suited to soothing anxiety. This specific variety also has connections to growth (both creative and environmental), enhanced endurance, patience and insight.
Hardness: 6.5-7 Country of Origin: Africa